A Course In Personal Evolution Part 2:

Integrating The Shadow
Philosophies and practices to support you in overcoming nihilism, self-sabotage, and compulsive behaviours, and unleashing your authentic energy, creativity, and wisdom to make meaningful progress towards actualizing your full potential.
Pre-requisite: Part 1: Cultivating Sovereignty
Do you often feel stuck in patterns of self-sabotage, nihilistic depression, lack of creativity, and compulsive behaviours that hold you back from reaching your full potential?
This is a very common problem that has a somewhat counter-intuitive solution. Keep reading to find out what it is.
In our drive to be more liked and successful in getting what we want in life, we carefully craft an image of ourselves that we project into the world. This image is scrubbed of all undesirable behaviours, attitudes, and emotions.
This often starts in early childhood, when we notice that expressing negative behaviours or emotions gets us punished, and acting "nice" gets us rewarded. So we continue to act this way into adulthood, pretending like all those negative behaviours and emotions don't exist.
They become our shadow: a psychological term for everything about ourselves that we can't or refuse to see.
Instead of learning how to deal with our difficult emotions (like anger, hatred, rage, jealousy, or desire for sex and power) in a healthy way, we try to avoid feeling them altogether by distracting or overstimulating ourselves.
This strategy of suppressing aspects of ourselves can work temporarily, but in the long run in backfires and creates many problems for our mental, emotional, and physical health. Indeed, the widespread epidemic of mental illness in developed countries is directly related to this.
By disowning seemingly negative aspects of ourselves, we cut ourselves off from our own inner source or energy, creativity, and wisdom. This also reduces our ability to feel authentic joy, flow, curiosity, and love.
The process of re-owning all these repressed parts of ourselves is called integrating the shadow.
Signs that you have not integrated your shadow:
Do any of these sound familiar to you?
Frequent compulsive, addictive, or neurotic behaviors (including overindulging in vices, consumerism, or overworking).
Patterns of self-sabotage or flip-flopping in your decisions.
Feeling fatigued or uninspired.
Bouts of depression or nihilism.
Uncontrolled outbursts of strong emotion – desire, anger, or hate.
Doing things that you later regret, or like you weren't yourself.
When we were younger, we both suffered from many of these problems. It got so bad that it became unbearable.
Separately, we both came to a point in our lives when something inside of us snapped, and we each decided that enough was enough. Something had to change. We started reading books about the unconscious, practicing meditation and contemplation, and trying to uncover the monsters that lurked in our respective minds.
The 2 biggest challenges of doing shadow work
Shadow integration is no walk in the park. The biggest challenge when it comes to this work is being honest with yourself about your unconscious behaviour and repressed emotions. Most people think of themselves as "nice and decent", and simply don't want to admit to themselves that they have all those unsavoury parts buried deep within.
The good news is that everyone has a shadow. That's just called being human; there is no shame in it. Admitting it is the first step.
The second biggest challenge is the syndrome of "I already know this". If you've read some books about the unconscious and done some shadow work yourself, it can be very tempting to think that you have it figured out already.
We have spent many years doing shadow integration work ourselves. Anytime we thought we were "done", life always found a way to knock us over the head and remind us otherwise. We eventually adopted the Beginner Mind: an attitude of humility and openness, remembering that there is always something more to learn.
After lots of trial and error and sifting through the many (often ineffective) methods of working with the shadow, we found the ones that really produced transformation and condensed them into a course.
Introducing:
A Course in Personal Evolution




Part 2: Integrating The Shadow.
Unleash your authentic joy, creativity, wisdom, and energy to make meaningful progress towards actualizing your full potential.
10 video lessons
Downloadable lesson slides
Written exercises (mandatory)
Classmate chat group
Links to additional resources (books not included in Membership cost)
Weekly group calls (Premium Membership)
The course includes 10 video lessons, between 10 and 45 minutes long. The lessons can also be downloaded in slide format for easy viewing.
Most of the lessons contain a mandatory written exercise, which must be completed before the next lesson becomes available.
Taking the course gives you access to a private Facebook group & Discord channels where you can meet other participants, discuss the course content, or get feedback on your exercises.
The course resource page features many links to relevant books, podcasts, videos, and articles for further study.
This course is part of Future Thinkers Membership, which also includes unreleased podcast segments, private Q&As with past guests, priority access to future retreats and events, and other features.
The group calls are a Premium Membership feature, designed to provide deeper support for your personal evolution.
A small group of course participants meet in a video call for an hour once a week. We facilitate the calls to allow people to discuss what they are going through, what they're struggling with or stuck on, and help them resolve their challenges as a group. It's a supportive, non-competitive, yet positively challenging environment that is designed to allow the space for transformation to unfold.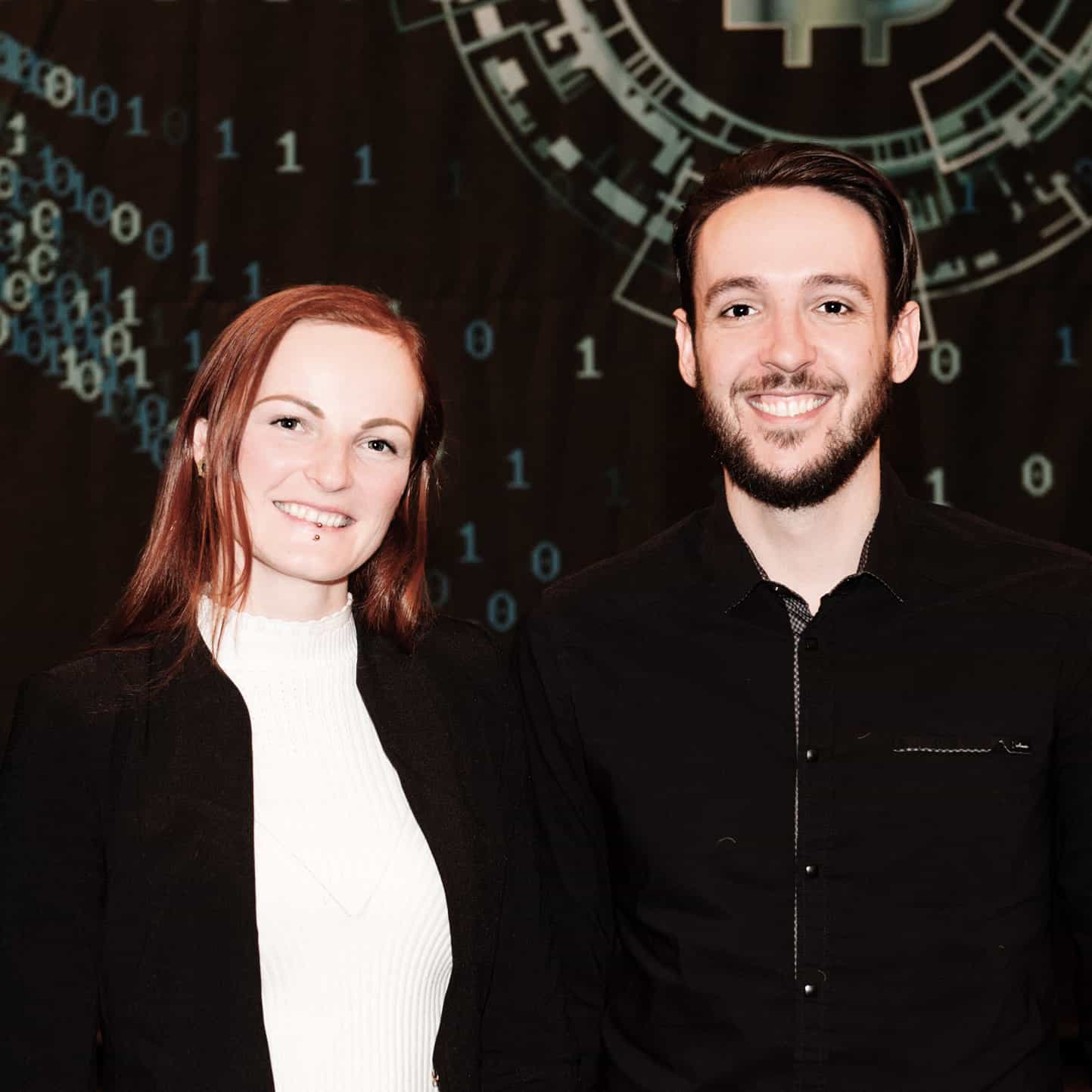 Hi, we're Mike and Euvie, the creators of Future Thinkers. Our courses are the culmination of over a decade of our work in speaking with brilliant thinkers on our podcast, reading hundreds of books, working as entrepreneurs, living with different cultures around the world, thinking about the future of humanity, and thousands of hours spent in meditation. Personal transformation is something we have both been practicing for over 15 years. We live and breathe this stuff.
Whether you're a change-maker, entrepreneur, executive, educator, parent, or simply someone deeply dedicated to their personal evolution, this course on Integrating Your Shadow is designed to support you in your transformation.
This course is for you if…
You're committed to investing the time and effort to do the exercises and self-evaluate your attitudes and behaviours, even when it's not easy.
You can admit to yourself that you have many unconscious behaviors and repressed emotions.
You want to be whole and to live authentically.
You're willing to invest in your personal evolution and making meaningful progress towards actualizing your full potential.
Doing shadow integration work is one of the most transformational things you can undertake. It uncovers the abilities you never knew you had, and makes you more capable and fulfilled in all areas of your life.
What will shadow integration mean for you?
Experiencing more energy, flow, joy, and life satisfaction.
Feeling more authentic and whole.
Experiencing less stress and fear.
Broadening your worldview and expanding your creative potential.
Being more resilient and ready to take on any challenge or mission.
Having a stronger internal compass and life purpose.
Connecting to your inner source of wisdom.
The famed psychologist Carl Jung believed that making the shadow conscious is a path to spiritual awakening.
At the very least, integrating your shadow is an essential process for reaching mature adulthood (which is unfortunately more rare than people think!).
Completing this course will arm you with a toolkit you can use for the rest of your life. By the end of it, you will not only understand the material theoretically, but be able to experience it and apply it practically.
Don't let yourself be stuck in the same old patterns of self-sabotage, nihilistic depression, and compulsive behaviours that are holding you back.
Take the Integrating Your Shadow course today and unleash your authentic joy, creativity, wisdom, and energy to make meaningful progress towards actualizing your full potential.
Part 2: Integrating Your Shadow.
Unleash your authentic joy, creativity, wisdom, and energy to make meaningful progress towards actualizing your full potential.
GUARANTEE: TRY

A COURSE IN PERSONAL EVOLUTION

 

FOR A FULL 30-DAYS
Here's our guarantee: If after becoming a member you decide that it isn't for you, email us within 30 days of your purchase and we will refund the cost.
"The world needs you at your best, and this course will get you there."
If you've been looking for something more, this is it. The world needs you at your best, and this course will get you there. It is the push that you need to unlock, to blossom into everything that you can be. That doesn't mean that it's going to be easy, but it's definitely going to be worth it.
"This course has helped me document where I am in my life and where I'm going."
I took part in this course because all the cultural narratives in my life had stopped making any sense to me – I felt extremely lost. This course has helped me document where I am in my life and where I'm going. A lot of products and courses in the self-development world are available, but I like that this one is very active, rather than passive. The requirement to complete the exercises before progressing helps you to engage in the work more fully, and since you're taking part within a group context, you can expect to feel a little less lonely. The nature of the Future Thinkers podcast that accompanies this course means that most of the people in your group will likely have some understanding of what you might be going through, even if it feels like the rest of the world doesn't get you. I would recommend this course to anyone who has found themselves wandering off the map, feeling a bit lost or want to deeply, deeply figure out how to use their own internal operating system. Mike and Euvie knowledge and experience is broad, and they provide a welcoming and understanding environment for exploring your deeper nature.
"I strongly recommend this course for people that wanna challenge their nihilism."
Part 2: Integrating Your Shadow.
Unleash your authentic joy, creativity, wisdom, and energy to make meaningful progress towards actualizing your full potential.